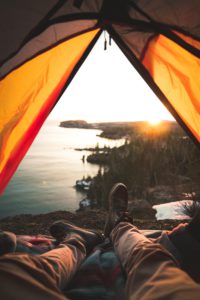 Summer is just around the corner, and everyone is eager to explore the great outdoors. Camping offers an exciting way to bond with family and friends while still doing some self-reflection. Adding some cannabis into the mix is a surefire way of making the experience more intense, fun, and memorable. 
Whether you plan to camp in a tent, in the back of your car, out in the open, or a camper, this article explores the top three vape pens that will take your experience to the next level. A good vape pen should consist of a flavorful strain that will give you a cerebral and body high without interfering with your faculties. 
Below are the top three vape pens for camping found at Lit Vape Pens  
Durban Poison THC vape pen – Sativa
This vape pen will entice you with its earthy, sweet, and piney aroma. Your palate will be treated to some sweet flavors that will keep you coming back for more. 
The Durban Poison THC vape pen is the perfect camping vape pen due to its energetic, uplifting, focused, happy, and euphoric effects. It will keep you lively and present in the moment during your entire trip. 
As you lay down trying to solve cosmic mysteries, this is your ideal companion. Medical cannabis users use this strain to fight depression and stress, alleviate pain, and ward off fatigue. 
Blueberry Pie THC Vape Pen – Hybrid
With the Blueberry Pie THC vape pen, you can expect to experience both worlds of Sativa and Indica. The smooth vapor emits a fresh blueberry pie aroma and leaves a similar taste
in the mouth with some nutty and vanilla undertones.
This vape pen will have you feeling euphoric, relaxed, introspective, and uplifted during your camping adventure. As the effects fade off, you will experience a growing need to sleep.  In the morning, you will wake up more energized and ready to heighten the adventure. 
The blueberry pie vape pen is ideal for anyone looking to work on their depression, pain, fatigue, insomnia, and stress. 
CBD Shark 1:1 Mint Vape Pen -Hybrid
Camping is not always a smooth experience for everyone. Some people find it harrowing, and that's why we have included the CBD shark 1:1 mint vape pen. 
The CBD and THC effects are mild and will leave you with some cerebral buzz and slight sedation. You will remain functional throughout to participate in camping games, quizzes, and adventures.
You might get surprised and end up enjoying the experience immensely. 
Specifications

The vape pens come in 500mg and 1000mg capacity. Each kit comes with a 1350mAh variable voltage twist battery and one USB charger. You can buy an extra pre-filled cartridge to use when the one that comes with the vape pen runs out. 
Why choose Vape pens?
Vape pens present several advantages when used for camping. First, they are small and compact, making it easy to carry them around. They can fit in the pocket, purse, or backpack with ease. 
Secondly, if you are looking for a discrete way to consume cannabis, vape pens will never disappoint. You get to enjoy your weed without attracting unwanted attention or irritating anyone who isn't a consumer. 
Lastly, they are easy to use, relatively cheap, easy to maintain, and long-lasting. You can use them for a long time, especially the refillable ones; all you need to do is keep them charged and replace the cartridge when the cannabis oil runs out. 
Why choose Lit Vape Pens?
With Lit Vape Pens, you get the purest form of cannabinoids and terpenes. We use the CO2 extraction method, which guarantees a safe, pure, and natural product.  
Our cannabis oil does not contain PG, VG, PEG, MCT, coconut oil, or vitamin E acetate. You are assured of healthy products that pose no threat to you or your loved ones. 
Lit Vape Pens contains a wide range of products with different cannabinoid concentrations, potency, and flavors. There is always something for everyone.