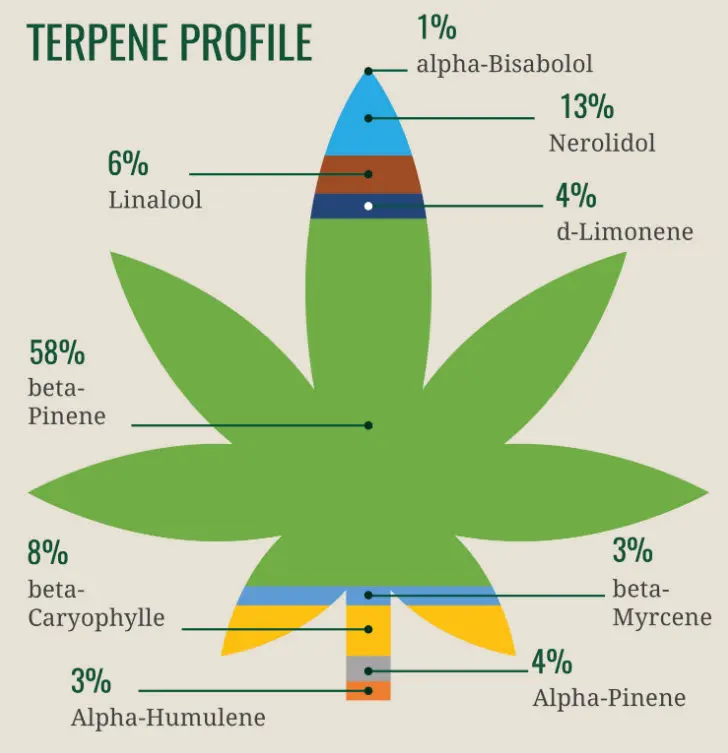 The word terpene has gained a lot of currency in the cannabis industry and that's because dabbing, or inhaling weed vape pens, has also gained popularity as a safer way of consuming marijuana.
Why Terpenes Matter
If you've ever walked through a pine forest, you must have noticed what a refreshing and uplifting experience this can be. Terpenes are the reason behind the wonderful aromas you'll find not only in forests but in ordinary things like lavender flowers, or citrus fruits and mangoes. Terpenes are aromatic oils that give your weed its unique scent and flavor and also enhance your high. Even more importantly, they come with numerous medicinal benefits.
There are over 20,000 different terpenes that occur naturally in our environment. Out of these, more than 100 have been identified in the cannabis plant. Plants generally produce them for protection against predators like destructive insects and herbivores. They also help the plant to breathe and regenerate.
In cannabis, terpenes have 3 important roles:
They contribute directly to the kind of high you get in what is known as The Entourage Effect
Like cannabinoids (CBD), terpenes have medical benefits.
They give the cannabis plant and its extracts a distinct natural aroma and flavor.
The entourage effect
For a while, scientists thought that THC was the only important psychoactive chemical in cannabis. But in 2011 neurologist Ethan Russo and team revealed how terpenes and other cannabis molecules work together to boost and control each other's effects in the body's endocannabinoid system (ECS). This synergy creates a more potent effect than when the chemicals work individually, a phenomenon known as the entourage effect. The study also showed that terpenes and CBD downplay the effects of THC while also increasing the therapeutic value of cannabinoids.
Aroma and Flavor
Terpenes contribute to aroma and flavor. As we all know, the quality of cannabis flower is normally gauged by its scent.  Cannabis that's been grown and cured using the highest standards should produce a pungent but pleasant aroma. Interestingly, our own bodies respond differently to various terpene profiles in cannabis, telling us which one is more beneficial to us. This explains why some people prefer a "piney" scent, while others are attracted more to fruity scents.
Health and Other Benefits
Terpenes are known to boost our immunity among other important medicinal benefits. They also help keep us relaxed and stress-free, not to mention they've been credited with helping keep us focused.
Where Are The Different Types of Terpenes and Where Are They Found on the Cannabis Plant?
Cannabis plants are hairy for a good reason. The hairs that give them that characteristic sheen and sticky feel are called trichomes, and are the tiny factories that manufacture terpenes and cannabinoids.
Of the 100 terpenes that have been found in cannabis, 11 are considered to be quite important because of the various benefits they give us.  5 of these are worth a special mention.
1. Myrcene
Myrcene is a vital terpene in cannabis plants that gives them their "earthy" aroma. When you feel relaxed after taking weed it's because of the action of myrcene which also has anti-inflamatory characteristics. Cannabis that contains more than 0.5 % myrcene in its profile is classified as an indica strain. Studies have shown that myrcene can help treat osteoarthritis and in managing pain.
2. Caryophyllene
Cannabis has one thing in common with hops, cloves, and rosemary; all these plants contain caryophyllene, which gives them their characteristic herbal aroma. Caryophyllen is not only a pain reliever, it plays a role in protecting our body and brain from disease. Like myrcene, it reduces inflammation and fights osteoporosis. Studies have also shown that it can help treat anxiety and depression.
3. Pinene
As the name suggests, this terpene is present in pine trees and other conifers. Pinene contributes to the "piney" scent found in certain cannabis varieties. Apart from having anti-inflammatory and antisceptic properties, pinene can help our respiratory system as well as protect us from ulcers, qualities that have seen it used for centuries in herbal medicines.
4. Limonene
This terpene is typically found in citrus fruits, and is responsible for their citrus aroma.  However, it's not found in all weed varieties. Limonene's potent anti-fungal and antibacterial properties, combined with its wonderful scent has made it a popular additive in cleaning agents and cosmetic products. Limonene helps our bodies by increasing our immunity, it also relieves heartburn, and acts as a stress buster and mood enhancer.
5. Humulene
Humulene is another important cannabis terpene that's actually named after the hops plant where it is commonly found. For centuries, humulene has been used as a holistic medicine in the Far East, with research showing that it can act as a pain reliever, as a topical anti-inflammatory agent. Interestingly, it can also suppress our appetite.
Terpenes And Vape Pens
There's no doubt that vaping cannabis gives us a smoother and tastier experience than your regular joint. Vapour is also known to be purer and healthier than smoking which comes with tar and other unpleasant by-products. That said, using the right temperature when using a cannabis vape pens is critical, not just for flavour, but also for your health.
A study by Portland State University, showed that when heated to high temperatures, terpenes can produce toxic chemicals, methacrolein and benzene, which are associated with certain cancers. To avoid this you need to vape at temperatures below 200°C or 392°F, the point at which smoke is formed. This means setting your vape pen at 3.3 volts which not only makes vaping smoother, also retains the benefits of the terpenes and oils.
Conclusion
Clearly terpenes, like vitamins in our diet, are key to a healthy and wholesome vaping experience. The cannabis industry has caught on to this and is already cultivating strains that are endowed with certain terpenes and cannabinoids to better cater for specific customer needs. In future, cannabinoid and terpene profiles of various strains will be even more customer specific.
We too at LiT are hard at work looking for the right assortment of cannabis products to meet our clients' demands for safety and quality in their vaping experience. Order now for the highest quality THC & CBD Cannabis Vape Pens, edibles and other products guaranteed to give you the smoothest customer experience.